Falcon Class
Welcome to Falcon Class Webpage
Classteachers - Mrs K. Simpson and Mrs Clair Sanders
Teaching Assistant - Mrs C. Mullooly
PPA Teacher - Mr Shenton
Intervention Teachers - Mrs L. Snapper, Mrs Stevens and Mrs H. Campbell
Summer Term 2017
Tango in The Tropics
During the Summer Term, Falcon class will be learning about The Rainforest, which will be the theme through many of the subjects.
In English, the children will be learning about performance poetry, followed by stories from other cultures, persuasive and instructional writing and dramatic conventions. Henri Rousseau paintings will be the focus in art, followed by making moving animals in DT - all linked to our rainforest topic. Our visit to Chessington will be very exciting - including an animal workshop and visiting the animals, as well as a couple of rides!
PE Lessons
Every Wednesday & Thursday
Please make sure that full (named!) PE kits are in school every day, as we may have extra PE in the run up to sports day.
BUG CLUB and ABACUS
All the children now have their own personal log in for Active Learn, where they can access maths activities and reading books.
Value of the Month:
April : wisdom
May: beauty
June : community
"In all that we do, our values shine through"
Our Golden Rules
We respect
We take pride
We take care.
Be The Best You Can Be
To encourage children to become independent and effective learners we will be thinking about ways to show the 5rs - resourcefulness, reflective thinking,reasoning, resillience and responsibility.
The 5 Rs are encouraged through every lesson and activity during the school day and are linked to characters in Winnie the Pooh to enable the children to relate to and understand the vocabulary.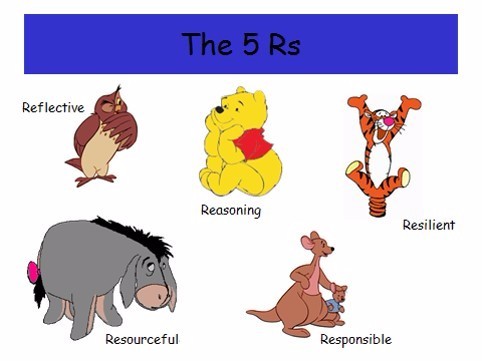 At the start the new year, the children made their new Class Charter. This includes the Rights they have and with that the responsibilities. E.g We have the Right to be heard and the responsibility to listen. We used our Autumn Science Topic of Space to inspire our display, with each child making their own space rocket.
Learning Links: