Wishing all our leaving Puffins, incoming Puffins and their families a happy and refreshing holiday!
We had a fantastic beach day in the last week of term.
Here are some of the things we did!
Enter text...
Welcome to Puffin Class Page
Puffins have had another fantastic year with lots of fun and good times that we looked back on over the final few days.
The children have all worked so hard this year to be the best they can be.
We are very proud of them all.
We will miss the children but wish them all every success in Year 2.
Mrs Watts, Mrs Gosling and Mrs Goldie are all very grateful for the
kind messages and gifts we received at the end of term.
We had a wonderful year with your children.
We look forward to welcoming all our new Puffins joining us in September.
We are very excited about all the things we have planned.
This is Sunny the Meerkat.
We will be learning all about him when we
come back for the new school year.
We finished our first half term of Summer with a fantastic trip to Wisley - it was very hot but the children enjoyed themselves and learnt a lot about edible plants.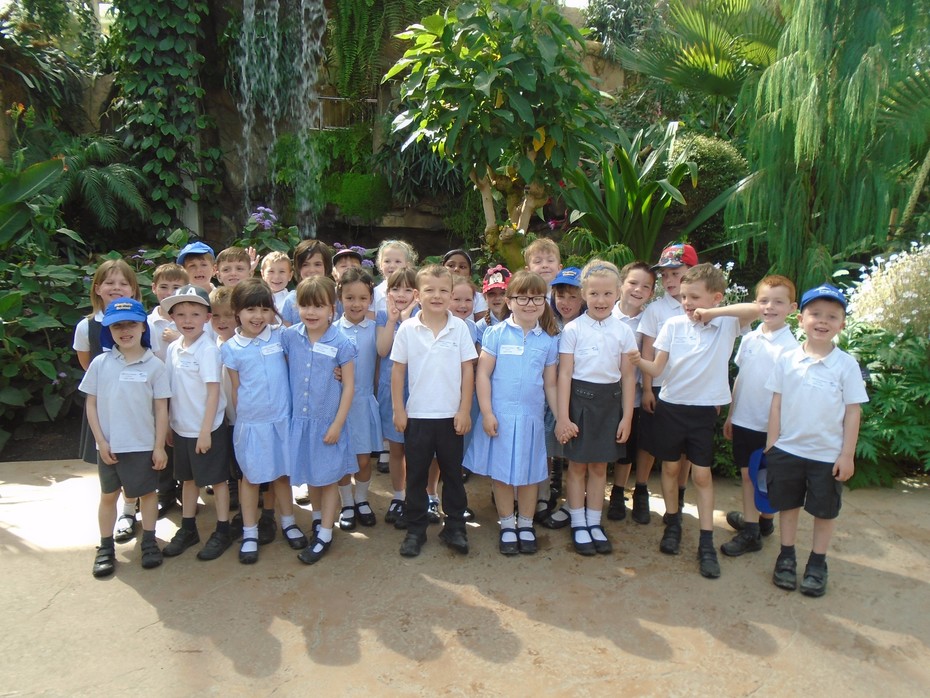 This year Puffins will be continue to be taught by Mrs Watts (Mon-Wed) and Mrs Gosling (Wed-Fri).
Mrs Goldie is our classroom assistant who works with us everyday.
Mrs Wilson also helps us with our learning.
Click here to have a look at our Puffin's Timetable to see what we do most days.
We do not expect the children in Year 1 to have specific homework at this stage of the year,
other than reading as often as possible.
Please remember to read everyday with you child and
encourage them to change their books each morning as they come into school.
As you know, we listen to the children read twice each week in groups and individually every fortnight or more. We constantly assess all the areas of reading that the children need to master. At no point do we wish to hold children back in their reading. However, we will make professional judgments as to when the children are ready to move to a new level.
It is fantastic that so many of you are supplementing their breadth of reading with books from home and libraries. This all enriches their learning and their enjoyment. Thank you!
Please have a look at the links to our Curriculum Leaflet Summer Year 1 2017 and
Curriculum Overview Summer 2017.
This term we have sent home ideas to support children's learning in maths (Term3 Maths Booklet)
and also some key spellings that children need to learn (Spelling List).
Your child can access Bug Club activities by following the link to https://www.activelearnprimary.co.uk.
Each child's user name is their first name and the password is ppp. School Code is wcvy.
There you will find maths games as well as additional books to enjoy reading on line.
Ask your parents if you can play the games on the BBC Bitesize website!
http://www.bbc.co.uk/bitesize/ks1/
Ask your parents if you can play the games on the ICT games website!
You can also try www.oxfordowl.co.uk and log on using the class log in icon.
Username: Puffins30
Password: Puffins30
You can access a range of books at all different book band levels! There are books that can also be accessed on tablets.
Maths Workshop - Thursday 20th April
Thank you to all the parents who were able to come and share with their children's learning. We had a good time thinking about how we can improve
mental recall of number bonds, doubles, halves, counting in 2s, 5s and 10s
reasoning - looking for links and patterns I know double 5 is 10 so 5+6 is 11.
If 7+7=14 then 8+6 = 14
problem solving - applying our knowledge to real situations. Will I add or subtract?
Apologies that the power point did not work. Please find it linked here: power point for work shop
During Book Week we spent time reading Beautiful Bananas. We learnt how important it is to buy Fair Trade products so that farmers get a fair price for the food they produce.
Do you remember our song?
I love bananas, I like to buy Freetrade
I know the farmers will be fairly paid
Look for the symbol when you choose your food,
Support the farmers of the world and do something good!
Look at our fantastic costumes from World Book Day.
Which characters can you see?
P.E.
P.E. always takes place on a Tuesday, Wednesday or Friday, but children must have a kit in school each day. We would recommend they have tracksuit bottoms to wear in the winter.
Please ensure your child has the full appropriate kit in school, including footwear, to allow them to take part in every P.E. lesson.
Please also ensure all P.E. kit and uniform is clearly named.
Earrings must be removed at home.
Library Books
Puffin Class visit the library on Wednesday. Please ensure your child has their library book in school
on Wednesday to allow them to borrow a new book.
Values
Our value in July is participation.
Important Puffin Dates:
First day of term - Tuesday 5th September