A WARM WELCOME TO ROBIN CLASS!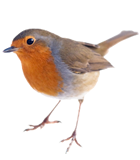 Below are photos of us enjoying our learning, looking for changes in our tadpoles and our recent farm visit.
The staff in the Early Years Foundation Stage work as a team to ensure that everyone can...
"be the best that they can be!"
Nursery Staff:
Mrs Eustace - Class teacher (Mon-Weds)
Mrs Collins - Class teacher (Thurs– Fri)
Mrs Carter – Early Years Practitioner
Miss Kinnon – Early Years Practitioner
What are we learning about in Robin Class?
Our topic for this half term is 'Fantastic Food and Farming' and will link to our Nursery trip to Bockett's Farm. After the half term break we will be having adventures further afield, as we explore different types of transport, holidays and under the sea! Teaching and learning will be linked to all seven areas of the curriculum; focusing on particular rhymes and stories.
Through our topics we will also be using every opportunity to develop spiritual, moral, social, and cultural values- encouraging children to: explore beliefs and experiences; show respect for faiths, feelings and values; learn about themselves, others and the surrounding world; use imagination and creativity as well as reflect.
Please refer to the medium term planning below for more details.
For long term planning please click on the link below:
For this term's planning and learning objectives please click on the links below:
(Please note that these plans are 'a work in progress' which will be adapted as necessary in order to incorporate interests, specific events and the weather!)
Each week the children will learn a rhyme linked to our topic. Please encourage them to practice singing the rhyme for you at home.
For this week's learning and weekly rhyme please click on the links below:
Dates for the diary:
Fri 30 Jun Whole School Cake Bake
Sun 2 Jul Summer Fair
Wed 5 Jul Open Afternoon
Fri 21 Jul End of Term – Finish 2pm

This term our values are:
April: Wisdom
May: Beauty
June: Community
July: Participation
Are you interested in your child attending our nursery?
Click here to go to the Nursery Admissions Page.
Click here for a downloadable Nursery Admission Form.