Year 6 Residential to Norfolk Lakes 2023
Monday 15th May - Friday 19th May
Friday 19th May - AM Update
Good morning everyone! In a short moment, the teachers are looking forward to having one final round of revenge and waking the children up for the final time. We have an early breakfast, plenty of time to pack and then we're hitting the water one last time with a canoeing session - I wonder if anyone will get wet?!
With a slightly later lunch, we aim to leave the centre around 1.45pm. With approximately a 4 hour drive (it took us just under 4 hours to get here on Monday), we are hoping to be back at school around 6pm. We will message parents if we are delayed further. Mr Jackson will be on site to welcome us all home and children will be dismissed on the playground - don't forget to speak to Miss H before you go home!
Wishing you all a wonderful rest of the day and see you later! Miss H :)
Thursday 18th May - PM Update
For the final time, good evening everyone!
Our final full day at Norfolk Lakes has been full of fun and laughter, as we hoped it would be. Aleenah said she had a great day and the highlight was her chocolate birthday cake!
Many children took a break from a fry-up today and have taken to mixing various cereals in one bowl for breakfast. Despite the adults being less certain, they said cornflakes with cocopops is a great combination! We were impressed with children trying cooked tomatoes with their bacon and sausages if they did have a fry up - Leo quite liked them!
Following breakfast, Group 7 did some challenging team-building games whilst Group 8 were stranded on an island and left to survive for themselves by making shelters and fires. Straight after this, we were all put onto the giant canoes. The children impressed me with this and a few were pleasantly surprised and didn't think it would be so enjoyable. Kai, Ava and Ashlynn proved to be very good canoers and kept the rhythm of their boats going. Myself and Mrs Fox lived the high-life and were gently rowed by our team whilst Mr Payne and Mr Burt were made to work incredibly hard by theirs! Many of them chose to jump off... I was particularly impressed with Stanley E's backflip and Jack's trust-fall!
Lunch went down a real treat: the children chose between beef burgers and chicken burgers with chips. I was pleased that many children loaded their burgers with fresh salad, tomatoes and cheese too!
After lunch, the whole class finally had time on the climbing walls which they had been looking forward to since the beginning of the week. Lola managed to get to the very top in less than 45 seconds! Following this, we had some team games; Jack and Joe were both captains of each team when they played Rounders, Ultimate Frisbee and Capture the Flag. The children's sportsmanship was great - they did Mr Shenton proud!
After dinner, we celebrated Aleenah's birthday with cakes and songs. Aleenah blew out the candles and ate an extra-large slice of chocolate cake (turning 11 is hard work after all). This evening's activity was shooting rifles for Group 8; Shaun and Mia B were excellent and got some of the highest scores so far. Group 7 were sent to survive on an island, luckily we all made it from the depths of the Norfolk Jungle alive.
This evening's story time was bittersweet; the children loved talking about what they have enjoyed but many are sad to be leaving. That being said, everyone has talked about how much they missed their pets back at home and can't wait to see them!
I am so grateful to Mrs Fox, Mr Burt and Mr Payne this week. Mrs Fox has been our resident hairdresser; she has taken care of all the girls and spent many hours brushing their hair. Mr Burt has been a tremendously good sport and has always been in the water. Mr Payne's been keeping everyone busy with football games, basketball games and all sorts of variations of sports games. I am also so grateful to all of our Year 6 children - they've been great fun, polite and respectful but also making us laugh a lot! Every single one of them has challenged themselves in new ways and has many achievements to be proud of.
See you all in the morning with a final update! Miss H :)
Thursday 18th May - AM Update
It's Aleenah's birthday! Happy birthday, Aleenah! A birthday is always special but a residential birthday is even more special! Little does Aleenah know, the teachers have a few plans up their sleeves. Last night, we stayed up excruciatingly late to make sure everyone was asleep before decorating the house (has anyone tried blowing up balloons silently with 8 sleeping children in a room next door?! A near-impossible task!). In a few moments, Aleenah will be awoken with our poorly-rehearsed, haphazard rendition of Happy Birthday...
The children were sad that today is their final day but looking forward to some of the activities: giant canoes, climbing wall and survival skills. We'll try not to let any capsize in the lake, get stuck on the roof or get lost on the island... hopefully we'll bring them all home safely tomorrow.
Wishing everyone a great Thursday! Miss H :)
Wednesday 17th May - PM Update
Good evening everyone,
Sorry for the delay - the teachers were having a chat about the events of the day and Mr Payne was proofreading all the errors in my previous posts... apologies!
Wednesday is often the trickiest day of any week-long residential. The adrenaline has worn off and you're not quite close enough to hometime to be sad about leaving. That being said, I think it was only me that felt sluggish as the day worn on - Mr Burt, Mr Payne and Mrs Fox (the young ones) and all the children had great resilience and kept going all day long!
It was a long day today. We did archery and caving this morning and both were hugely successful. Levi said archery was one of his favourites and Leo managed a few bullseyes! Caving was tremendously good fun once you conquered the fear of claustrophobia. There were a few hidden monsters in the cave and Edward made group 7 laugh lots with his reactions to being scared ("you shouldn't scare children!" and "I will get you back for this!" in between fits of giggles).
Before heading out for our watersports, we had jacket potatoes and chilli for lunch - just the energy we needed. As you may have already seen from our photos, the paddleboards were certainly a wet one. Unfortunately (or maybe fortunately?), they didn't have enough paddleboards for everyone so I selflessly nominated myself to stay dry. Ahmed jumped into the water within the first five minutes - taking Mr Burt down with him! Mr Burt certainly got a little ganged-up-on by the whole class that the instructors even felt a bit sorry for him... so they dunked Mr Payne so that Mr Burt didn't feel left out.
Following paddleboards was raft building. This was a real opportunity for children to work together and build a successful boat. This took a great deal of perseverance and determination as not only was it tough work, but many of the children were cold and wet from paddleboarding. Mr Burt and Mr Payne were particularly impressed with Mia B for her continued optimism. I was very impressed with Kai for his patience and ability to teach others.
Dinner was a warm delight - chicken pie or beef stew. We were then truly treated with jaffa jonuts! After dinner, Group 8 did some initiative exercises and had their brains challenged with some tricky riddles. Well done to Mr Payne for remembering them all and testing me! Group 7 had a great time rifle shooting but learnt to steer clear of Chloe who managed to rack up a very high score.
We're looking forward to tomorrow - the weather forecast is looking lovely so the girls have got their shorts ready!
Goodnight and sleep tight, Miss H :)
Wednesday 17th May - AM Update
Good morning everyone!
Another successful night's sleep with not a peep from anyone. It's currently 6.33am and, after checking all the houses, I still haven't seen any children - or adults - awake!
Although the weather isn't looking as sunny today, we still plan on doing our water sports. We're looking forward to some archery and caving this morning too!
We will update you this evening with how our day has been - keep checking for photo updates!
Have a great Wednesday! Miss H :)
Tuesday 16th May - PM Update
Good evening everyone!
We've had a truly exhausting day out on the lakes today. In fact, it has been so tiring that right now, I am the only person in our entire school group that is actually awake!
This morning, most children woke up naturally by themselves listening to all the birdsong and then enjoyed a full English breakfast with all the trimmings - we were well-fed for our 2 and a half hours kayaking. Kayaking was an eventful experience... it took some children a while to learn how to paddle backwards and forwards and Harry managed to capsize twice (luckily he was giggling the entire time)! Once everyone had (somewhat) mastered the art of paddling forwards, we played plenty of games. With a slight breeze in the air, it made it a little tricky to avoid all the grasses be we succeeded. They quickly learned to avoid Mr Burt who is a master at splashing everyone. At the end of the session, we had the choice to play some games with the risk of being completely submerged in the water which only a few courageous ones chose to do. Children who put sun-cream on this morning made a very wise decision, Mrs Fox has very rosy cheeks this evening!
Lunch went down a treat with everyone - hot dogs! Following this, we split into our groups for bouldering and the low ropes course. I mentioned at the beginning of the week that it isn't a real residential if you don't go home with a few bruises... I think that was accomplished in today's sessions! No tears or first aid needed, so no need to worry! The children were excellent at both sessions - much better than myself when I accidentally dropped Mrs Fox during a trust fall exercise...
Dinner was a difficult choice between chicken, chips and beans or cottage pie but most children chose chicken and chips. Jan made an interesting sauce of his own by mixing the wide variety they have on offer (he said it was surprisingly tasty!. I am impressed with how many children enjoyed their green beans! The centre staff also commented on the healthy choices the children have been making - many of them requested fruit instead of brownie for dessert, which, needless to say, does not happen often. Ahmed showed us all a new way to eat an orange which was an interesting, if not messy, experience!
This evening, we swapped over from yesterday's activities. Group 8 went on the Blind Trail (well done to the children in Group 7 for not giving any spoilers). Shaun made an interesting addition to the trail by adding a huge tree... which turned out to be tiny when you weren't wearing a blindfold! Group 7 played aeroball - I was certainly the master or aeroball basketball with 16 points (not that anyone is keeping count). However, the true resilience award goes to Lola who almost never stopped bouncing.
With all of that fun and the warmer-than-expected weather, it was no surprise when the first few children starting yawning at 8pm and started requesting to go to bed early (the teachers did not turn that down). Everyone was in pyjamas with brushed hair and teeth by 9.50pm and lights successfully out by 10.05pm. Not a peep since!
We're all really excited to see what tomorrow brings - I'm predicting some rather wet and soggy children before dinner...
Goodnight, Miss H :)
Tuesday 16th May - AM Update
Good morning everyone! I hope that you all managed to get a peaceful and restful night's sleep just like me! A few children are early risers and I can hear them tip-toeing around but so far no one has woken up Mrs Fox, Mr Burt or My Payne - success!
The sun is beautiful this morning and we've woken to a chorus of bird song (combined with an obnoxious pheasant or two), a couple of children have already identified some of them. Looking at the weather forecast, it's set to be a wonderfully sunny day and rather warm too, so a good way to start it is with a kayaking session. The whole class are off on the lakes together again this morning and everyone is now wise to Mr Burt's evil splashing plans.
Do keep checking the webpage throughout the day for photo updates, I'm incredibly grateful to the little elves behind the scenes uploading them for us.
See you later with an evening update! Miss H :)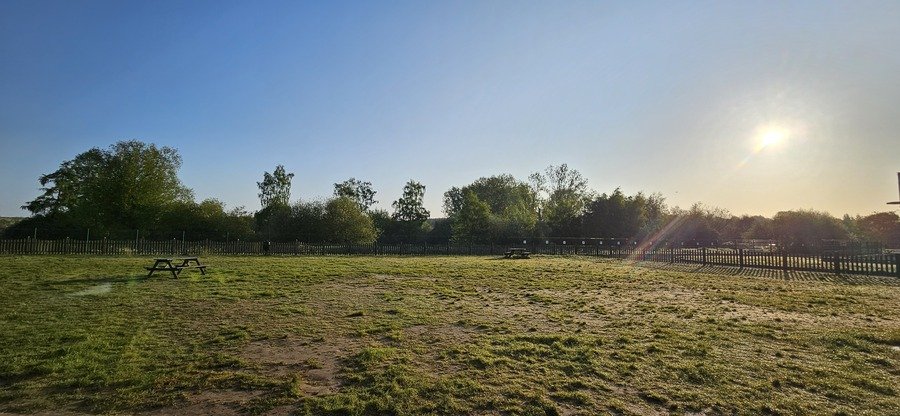 Monday 15th May - PM Update
Good evening, parents and good morning to many other readers!
Looking at the web stats for the Year 6 page (which I'm sure has more views today than all year combined), I can see some of you have been anxiously hitting refresh hoping for an update. I hope I haven't kept anyone up past their bedtimes! Please rest assured, no news is good news and I am delighted to report a wonderful first day. Despite maybe one or two tears upon leaving, as soon as we were out of Old Woking, we had songs, smiles and laughter for the rest of the day. We've had not one single wish to be at home and no one has asked me for a hug yet!
We made really good time on our journey and arrived at the centre early after a lunch successfully dodging the rain showers. Once we arrived, the skies turned blue and we headed straight for our first activity: giant stand up paddle boards! Undoubtedly, this is the wettest activity of them all and the children did not hold back from jumping in the water. We were amazed when Joe was the first one to go overboard, shortly followed by almost everyone else. By the end of the session, the children had successfully pushed in Mr Burt, Mr Payne and Mrs Fox! Luckily, myself and a select few others went for a more serene, leisurely paddle around the lake where we splashed a few others and admired the swans. Only once did we crash into a tree.
Dinner went down an absolute treat: children had the choice between southern fried chicken and chips or lasagne, followed by ice cream. Parents, you'll be pleased to know that nearly everyone also had some peas on their plate! I was very impressed! Even the fussiest of eaters had a good meal and no one said they were hungry once they finished their ice cream. There's always fresh fruit on offer and a good amount of bananas were eaten by some of the boys.
In the evening, Group 7 with Mrs Fox and me had great fun on the blind trail. It was certainly a muddy experience! Group 8 with Mr Payne and Mr Burt enjoyed some aeroball which undoubtedly will help them sleep tonight.
Best of all, I am writing this now from a silent table in my room with not a peep from any of the houses. All the children are successfully tucked up in bed and - miraculously - asleep!! The children have done a great job of creating some extremely comfy-looking beds, but the reward is definitely for Leo and his palace of blankets and sleeping bags.
I've been really impressed with how well the children have done today. They've been great representations for Kingfield School, no one has not given it their best go and they've all been polite and courteous to each other and the staff.
Looking ahead to tomorrow, we're in for a busy day. We kick-start the morning with some more water sports, followed by plenty of climbing activities after lunch. As always, I will keep you posted with an evening update. Until then,
Miss H :)
Tuesday 9th May
It's less than a week until our residential! Miss H, Mrs Fox, Mr Burt and Mr Payne are in the final stages of organisation and are also getting quite excited. Lots of supplies have started to be delivered to school (maybe some of you have been extra observant and already noticed this?) and the teachers are starting to pack their bags.
If you haven't already, make sure you've looked at the kit list and have started thinking about what you need to pack. Please don't buy a brand new wardrobe; instead find the clothes you don't mind getting mucky and dirty or even throwing away at the end of the week!
If your child has any medication - please bring this to the school office as soon as possible. Please remember that all medication must be brought in by an adult - we cannot accept medication that is brought with a child.
When packing for your residential, please refer to the kit list in the documents below. Here are some key things you must remember:
Bring a clean

sleeping bag

, a

pillow

and a

pillow case

. No bedding can be provided for you!
Pack everything into

one suitcase

and a

rucksack

. You can bring your pillow and sleeping bag in a separate plastic bag if needed.
I strongly recommend bringing some

plastic bags

to keep any damp/smelly clothes in. It'll make laundry when you get home easier!
Remember to bring a small bag of

toiletries

with you (soap, shampoo, face cloth, roll-on deodorant).
Everyone must have a

re-fillable water bottle

(do not bring a disposable plastic one as this won't last the week).
You will need a

packed lunch

on Monday. School cannot provide any packed lunches. Normal rules apply: no nuts, sweets or fizzy drinks.
Lastly, leave anything electronic or valuable at home!

Under no circumstances are mobile phones, tablets or any electronic devices allowed

.
I also recommend having a good, healthy breakfast before leaving home on Monday morning.
We aim to leave school around 9.15am on Monday 15th May. Please make sure you arrive at school on time so we can properly register you, check bags and load the coach. Parents and carers are welcome to stay and wave us off! We hope to be back at school at 5.30pm on Friday 19th May - we will text parents if we experience any delays.
Miss Humphreys will update this webpage each evening (as soon as all the children have fallen asleep - so maybe it'll be early morning?!) with an update on how the day has been and what adventures (and possibly what injuries for Miss H) we have been getting up to. Photos may also be uploaded but these may appear at different times during the day. We ask for families at home to be patient when waiting for an update - remember no news is good news!
If we do have to call parents at home, please be mindful that you may receive a phone call from an unfamiliar, unknown or private number. If you miss our call, we will try our best to call you back later during the day.
If you have any last-minute worries or concerns or questions, please drop Miss H a call or an email or catch her at the end of the day.
Please see below for key documents: